China's energy consumption rose by 0.7% in the first half of 2015
According to the National Energy Administration (NEA) of China, primary energy consumption in China increased by 0.7% only in the first half of 2015. Coal production declined by 5.8% to 1.79 Gt, while oil production increased by 2.1% to 110 Mt and gas production (including shale gas and coalbed methane) rose by 4.3% to 67 bcm. Power generation rose by 0.6% to 2,700 TWh, with non-fossil generation accounting for 23% of the power mix. In the first half of 2015, coal imports sunk by more than 37% to 100 Mt, while oil imports increased by 7.5% to 160 Mt and gas imports by 5.5% to 30 bcm. Oil consumption continued to progress (+3.2% to about 260 Mt), as gas consumption (+1.4% to 91.5 bcm) and electricity consumption (+1.3% to 2,700 TWh). Coal consumption in the four major industries declined over the first half of 2015.
This moderate growth in energy consumption reflects the current change in the Chinese energy market, with a structural change in industry toward high value added branches providing opportunities for a lower energy consumption. The share of the industrial sector in electricity consumption dipped by 1.2 percentage point to 72% in the first half of 2015 (compared to the same period of 2014), to the advantage of services (13%, +0.8 percentage point). China expects energy consumption to grow in the second half of 2015, and electricity consumption should rise by 3% to 5,700 TWh.
---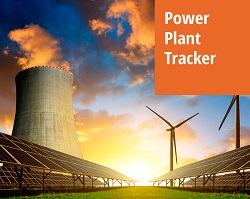 Enerdata has developed a market research service to screen, monitor and analyse the development of power generation assets.
Power Plant Tracker offers an interactive database and a powerful search engine covering power plants worldwide – including both installed and planned capacities for renewables and fossil fuels.