China's crude oil imports rose by 9.5% in 2019, gas imports by 6.9%
According to preliminary data from the General Administration of Customs, China's energy imports continued to increase in 2019. Crude oil imports rose by 9.5% to nearly 506 Mt (10.1 mb/d), as two 400,000 bbl/d refineries commissioned in 2019 – Hengli Petrochemical in Dalian (northeast China) and Zhejiang Petroleum and Chemical in Zhoushan (eastern China) – are fostering China's crude oil demand. Meanwhile, imports of petroleum products declined by 8.7% in 2019 to 31 Mt, and that of fuel oil by nearly 11% to less than 15 Mt. Natural gas imports continued to grow in 2019 (+6.9%), as China is seeking to raise the share of gas in its energy mix. Coal and lignite imports increased again (+6.3%), reaching 300 Mt.​ 
In 2019, China exported 67 Mt of petroleum products (+14%) , 6 Mt of coal and lignite (+22%) and 6.5 Mt of coke and semi-coke (-33%).
---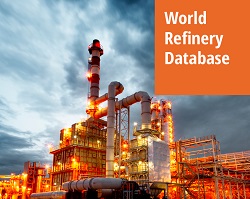 Use this powerful business intelligence tool to assess current and future production capacities of oil products by country and by zone. Gain insight into companies' asset portfolios and future trends for refined oil production capacities, giving you the ultimate edge for strategy and decision-making.