China's crude oil imports in 2021 declined by 5.4% to 513 Mt
In 2021, China imported 513 Mt of crude oil (-5.4% compared to 2020), 27 Mt of refined products (-4%), 323 Mt of coal and lignite (+6.6%) and 121 Mt of natural gas (+19.9%), according to provisional figures from the country's General Administration of Customs. In addition, the country exported 60 Mt of refined products (-2.4%). This is the first time crude oil imports are declining on year-on-year basis since 2001, as China clamped down on the refining sector to avoid excess domestic fuel production, while refiners reduced inventories. The 2021 decline can be related to rising crude oil price, a "backwardated" market structure - where prompt delivery prices are higher than those in future months - and the government's strategy to cool commodities markets.
China was the world's largest importer of crude oil in 2020, with 543 Mt. In 2020, China imported crude oil mostly from Saudi Arabia (16%), Russia (15%), Iraq (11%), Brazil (8%), Angola (8%), Oman (7%), United Arab Emirates (6%) and Kuwait (5%).
---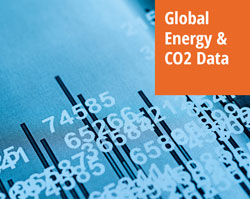 Then Global Energy Market Data & CO2 is your database! We provide world coverage of the oil, gas, coal, and power markets and a detailed overview of national supply & demand with annual data going back to 1970.
This energy database leverages more than 200 official data sources, which are processed by our analysts to provide fully harmonised data sets that are updated monthly.