China reaches 150 GW of installed wind power capacity (2016)
According to the National Energy Administration (NEA) of China, thermal power capacity in China stood at 1,050 GW (1,034 GW at year-end 2015), followed by hydropower with 330 GW (319 GW in 2015), wind power with 150 GW (133 GW in 2015) and nuclear with 33.6 GW (26 GW in 2015).
Where wind is concerned, the grid-connected capacity rose by 19.3 GW (up to 149 GW at the end of the year), and wind power generation reached 241 TWh (4% of the power mix). Inner Mongolia accounted for 19% of total wind power generation in China during the year (46 TWh), followed by Hebei and Xinjiang (22 TWh each).
The average utilisation of power plants declined by 203 hours to 3,785 hours, its lowest level since 1964. The utilisation rate in hydropower plants rose by 31 hours to 3,621 hours (+1,000 hours in some provinces, such as Beijing, Hebei, or Liaoning), while it declined by 199 hours for thermal power plants (down to 4,165 hours, lowest level since 1964). The nuclear utilisation rate also decreased by 361 hours to 7,042 hours.
---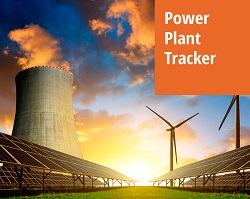 Enerdata has developed a market research service to screen, monitor and analyse the development of power generation assets.
Power Plant Tracker offers an interactive database and a powerful search engine covering power plants worldwide – including both installed and planned capacities for renewables and fossil fuels.