China launches an expansion project for the Yangshan LNG terminal
China has launched a CNY17bn (US$2.4bn) expansion project for the Yangshan LNG terminal, located in Shanghai, eastern China, whose capacity is expected to double from 6 Mt/year to 12 Mt/year.
The expansion project includes the construction of one 150,000 t LNG ship berth, which will be able to accommodate LNG vessels of up to 266,000 cm, as well as the construction of 10 LNG storage tanks of more than 220,000 cm and 70 km of additional gas pipeline. The storage capacity of the terminal will be brought up to 3.1 mcm, more than three times the current storage capacity. The expansion project is expected to be completed before 2030.
The Yangshan LNG terminal was inaugurated in 2009 with a capacity of 3 Mt/year and a first expansion project adding 3 Mt/year of capacity was completed in 2020.
The launch of the new expansion project comes only days after China's Sinopec signed a 27-year Sale and Purchase Agreement (SPA) with QatarEnergy for the supply of 4 Mt/year (5.5 bcm/year) of LNG to China.
---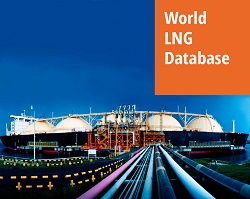 World LNG Database offers a complete set of data on LNG markets. The service provides detailed information on existing and planned liquefaction and regasification plants. It also includes LNG shipping around the world, LNG contracts, time series on regasification and liquefaction capacities, LNG flows and LNG prices for all players in the market.