Chevron will acquire US oil and gas player Anadarko for US$33bn
Global oil and gas company Chevron has entered into a definitive agreement with Anadarko Petroleum Corporation to acquire all its outstanding shared in a major stock (75%) and cash (25%) transaction valued at US$33bn. The acquisition has been approved by the Boards of Directors of both companies and is expected to close in the second half of 2019. It is also subject to regulatory approvals (in particular from Anadarko shareholders) and other customary closing conditions. Upon completion, it is set to significantly enhance Chevron's upstream oil and gas portfolio and in particular regarding its shale, deepwater and natural gas resource bases in the Permian basin and in the deepwater Gulf of Mexico. Besides, Chevron is set to integrate Anadarko's entire LNG operations.
Anadarko is involved in particular in the  Mozambique LNG (MLNG) export project on the Afungi peninsula, located close to the Offshore Area 1 of the deepwater Rovuma basin, which holds estimated reserves of 75 Tcf (2,120 bcm) of recoverable natural gas reserves, equivalent to around 12 Gboe. The project will include two liquefaction trains with a combined capacity of 12.88 Mt/year and the operation start is expected for 2022-2023. It is led by Anadarko (26.5%), Mitsui (20%), ONGC (16%), Mozambique's oil company ENH (15%), Bharat PetroResources (10%), PTTEP (8.5%) and Oil India Limited (4%).
---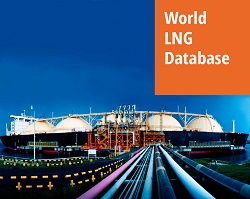 World LNG Database offers a complete set of data on LNG markets. The service provides detailed information on existing and planned liquefaction and regasification plants. It also includes LNG shipping around the world, LNG contracts, time series on regasification and liquefaction capacities, LNG flows and LNG prices for all players in the market.