Cheniere's Sabine Pass Train 6 produces first LNG (US)
The US energy group Cheniere Energy Partners has started producing LNG at Train 6 of its Sabine Pass liquefaction and export terminal project in Cameron Parish, Louisiana (United States). The group will continue the commissioning process and expects to complete the 4.5 Mt/year train in the first quarter of 2022, i.e., one year ahead of the guaranteed completion date. The Sabine Pass LNG project was developed in two phases with the first phase including four 4.5 Mt/year liquefaction trains (two commissioned in 2016 and two in 2017). A fifth train was commissioned in 2019. Cheniere Energy has decided to raise its run-rate production guidance to 4.7-5 Mt/year per train, up from 4.4-4.9 Mt/year per train. Once this sixth train fully operational, the Sabine Pass LNG plant will reach a total production capacity of nearly 30 Mt/year. The Sabine Pass LNG terminal also has operational regasification facilities, including five LNG storage tanks, vaporisers, and two marine berths with a third marine berth under construction.
---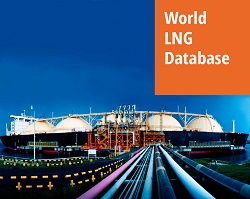 World LNG Database offers a complete set of data on LNG markets. The service provides detailed information on existing and planned liquefaction and regasification plants. It also includes LNG shipping around the world, LNG contracts, time series on regasification and liquefaction capacities, LNG flows and LNG prices for all players in the market.