CFEnergia will deliver gas to Iberdrola's 866 MW El Carmen CCGT (Mexico)
Iberdrola Mexico, a subsidiary of the Spanish group Iberdrola, has signed a gas supply contract with CFEnergia, a subsidiary of the Mexican Federal Electricity Commission (Comisión Federal de Electricidad), for the supply of gas to the 866 MW El Carmen combined cycle power plant (El Carmen, Nuevo León State, Mexico). The agreement is expected to last 24 years and amounts roughly US$4bn. The El Carmen plant will require an investment of US$450m and is expected to begin operations in September 2019.
CFEnergia will provide natural gas for the plant operations while the CFE will build the necessary infrastructure to connect the facility to the national grid. The power plant will receive the natural gas through a 302-km pipeline that will connect the Escobedo municipality (Nuevo Leon, mexico) to Webb County (Texas, United States).
Iberdrola currently has several power generation projects under way in Mexico with a combined investment worth around US$3bn. The company is building three new combined-cycle plants, namely: the North-east (Escobedo), North-west (Topolobampo II, 766 MW, Sinaloa State) and El Carmen (866 MW), along with two cogeneration plants, San Juan del Río and Altamira. In 2016, Iberdrola Mexico reported an installed capacity of 5,804 MW of which 367 MW of wind capacity, 237 MW of cogeneration plants capacity and 5,200 MW of combined cycle gas plants capacity.
---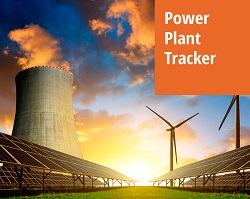 Enerdata developed a market research service to screen, monitor and analyse the development of power generation assets.
Power Plant Tracker offers an interactive database and a powerful search engine covering power plants worldwide - both installed and projects.