Bulgaria considers buying a 20% stake in LNG terminal project in Greece
The government of Bulgaria is considering acquiring a 20% stake in Gastrade, a subsidiary of the Greek energy company Copelouzos, which is developing the Alexandroupolis LNG import terminal project in northern Greece, in order to diversify its gas supply, as the country currently imports nearly all its gas consumption from Russia. The Bulgarian Energy Holding (BEH), which groups together several energy companies, would thus hold the same stake as Greece's state energy company DEPA in the terminal. In addition, state-own gas company Bulgargaz should take part to the binding market test for the LNG terminal project and book 300 to 500 mcm/year of gas over a 3- to 5-year period.
The 6.1 bcm/year floating storage and regasification unit (FSRU) is expected to receive LNG from the United States and Qatar. Bulgaria would import regasified gas through the 3 bcm/year Interconnector Greece-Bulgaria (IGB) gas pipeline, that is currently under construction between Stara Zagora (Bulgaria) and Komotini (Greece). The 182 km-long gas pipeline is expected to be completed by the end of 2020. It will connect to the Trans Adriatic Pipeline (TAP) project (Azeri gas supply) through the Turkey-Greece-Italy pipeline (ITGI), to the Trans Adriatic Pipeline (TAP) project and to the Revythoussa LNG terminal in Greece. Its capacity could later be raised to 5 bcm/year with reverse flow capacity (2025).
---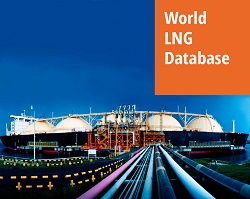 World LNG Database offers a complete set of data on LNG markets. The service provides detailed information on existing and planned liquefaction and regasification plants. It also includes LNG shipping around the world, LNG contracts, time series on regasification and liquefaction capacities, LNG flows and LNG prices for all players in the market.