British Columbia (Canada) postpones carbon tax increase
The government of the Canadian province of British Columbia (5 million inhabitants) has decided to suspend the increase in the provincial carbon tax sine die, as part of a broader tax change plan. The CAD40/tC02eq (US$28/tC02eq) carbon tax was expected to increase by CAD5 (US$3.45) on 1 April 2020. In addition, plans to align the carbon tax rates with the federal carbon pricing backstop is also postponed until further notice.
British Columbia implemented its carbon tax in 2008, which applies to the purchase and use of fossil fuels and covers around 70% of the province's greenhouse gas (GHG) emissions. The carbon tax is raised every year on 1 April by CAD 5 until reaching CAD 50/tCO2eq (US$35/tC02eq) in 2021.
In Canada, the federal government introduced a nation-wide carbon price, starting at CAD20/tCO2eq in 2019 and ramping up to CAD50/tCO2eq by 2022. British Columbia, Quebec, Nova Scotia, Prince Edward Island and Newfoundland and Labrador have committed to comply with the federal benchmark, whereas Alberta repealed the carbon tax it had implemented in May 2019. Other provinces, namely Manitoba, Ontario, New Brunswick and Saskatchewan, refuse to implement adequate carbon emission pricing plans and to adopt the country-wide CO2 pricing system. Consequently, the federal "backstop" mechanism applies in Manitoba, Ontario, New Brunswick and Saskatchewan since April 2019 and was extended in Nunavut and Yukon on 1 July 2019.
---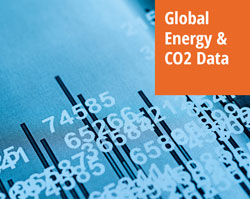 Then Global Energy Market Data & CO2 is your database! We provide world coverage of the oil, gas, coal, and power markets and a detailed overview of national supply & demand with annual data going back to 1970.
This energy database leverages more than 200 official data sources, which are processed by our analysts to provide fully harmonized data sets that are updated monthly.