BP and Eni launch Angolan oil and gas JV targeting 250 kboe/d in 2027
BP and Eni have officially established Azule Energy, a new 50/50 independent joint venture combining the two companies' Angolan businesses. The JV incorporation takes place after the pending conditions were met, among them having secured a third-party financing of US$2.5bn in the form of pre-export financing, and after receiving regulatory approvals.
The company, which is expected to increase its output to 250 kboe/d over the next 5 years, holds 2 Gboe of net resources, including stakes in 16 licences (of which 6 are exploration blocks) and a participation in Angola LNG JV. Angola LNG, which is owned by Chevron (36.4%, operator) together with BP Eni and TotalEnergies (13.6%), controls a 7 bcm/year (5.2 Mt/year) export plant in Soyo.
In addition, Azule Energy will also take over Eni's share in Solenova, a solar company jointly held with Sonangol, and the collaboration in the Luanda Refinery. Azule Energy has a pipeline of new projects that are scheduled to come on stream over the next few years, comprising the Agogo Full Field and PAJ oil projects in Blocks 15/06 and 31 respectively, and the New Gas Consortium (NGC), the first non-associated gas project in Angola. The new company also holds exploration acreage in excess of 30,000 km2.
In 2021, Angola produced 1.29 mb/d oil (-11% compared to 2020) and 5.7 bcm of natural gas in 2021 (-22%), including 4.7 bcm of LNG.
In July 2022, the New Gas Consortium, which includes Eni (25.6%, operator), Chevron affiliate CABGOC (31%), Sonangol P&P (19.8%), BP (11.8%) and TotalEnergies (11.8%), have taken the final investment decision (FID) for the development of the Quiluma and Maboqueiro (Q&M) fields. The project should enter execution in 2022 with a first gas planned in 2026 and an expected production of 4 bcm/year.
---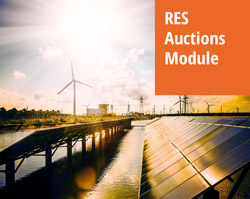 Discover our very detailed and regularly updated RES auctions database with worldwide coverage and a technical focus backed by academic research.
With our renewable energies auctions service you will be able to monitor auctions at a global level. Its (expanding) scope notably includes all major G20 countries and offers an especially fine tracking on Europe and South America.