Australian parliament approves offshore electricity infrastructure law
The Australian parliament has passed the Offshore Electricity Infrastructure bill, which had already secured approval from the House of Representatives. The new law sets a legal framework for developing offshore wind projects and offshore electricity transmission infrastructure. The National Offshore Petroleum Titles Administrator (NOPTA) will oversee licences for offshore projects, while the National Offshore Petroleum Safety and Environmental Management Authority (NOPSEMA) will have oversight of ongoing operations and safety. The new law  paves the way for renewable export projects, such as the Sun Cable, which aims to deliver up to 3.2 GW of solar power from 17 to 20 GW of power plants to Singapore through a 4,200 km long HVDC submarine cable, and for large offshore wind projects, such as the proposed 2.2 GW Star of the South offshore wind project in Victoria. This project recently secured funding from the government of Victoria (AUD19.5m, i.e. US$14m), along with Macquarie Group's 1 GW offshore wind project off the Bass Coast and Flotation Energy's 1.5 GW offshore wind project off the coast of Gippsland.
---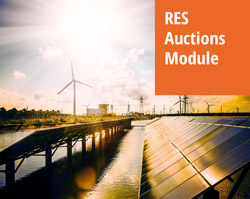 Discover our very detailed and regularly updated RES auctions database with worldwide coverage and a technical focus backed by academic research.
With our renewable energies auctions service you will be able to monitor auctions at a global level. Its (expanding) scope notably includes all major G20 countries and offers an especially fine tracking on Europe and South America.