The Australian government plans to replace the CET with the National Energy Guarantee
The Australian government has decided not to adopt the Clean Energy Target (CET) and has instead unveiled a new energy policy labelled as National Energy Guarantee (NEG). Under the new policy, renewable energies will make up less than 40% of the country's power mix by 2030. Unlike the CET, the NEG is not primarily oriented to curb greenhouse gas emissions. The CET would have seen power companies forced to provide a percentage of their power from renewable energies and the increased costs of sourcing energy from these types of providers would have been passed on to consumers. Instead, the NEG plan schedules the end of subsidies and incentives for renewable energy from 2020 onwards.
As per the NEG, Australian retailers will be required to use a certain percentage of their electricity from so-called dispatchable sources such as coal, gas, batteries and pumped hydro. Domestic retailers will be expected to ensure by themselves that the power that they are purchasing is reliable and efficient enough to help Australia meet its international obligations. An emissions guarantee will be implemented in order to meet Australia's Paris reduction target, requiring the new legislation to be passed by the Parliament and enforced by the Australian Energy Regulator. The guarantee level will be set by the Australian Energy Market Commission and the Australian Energy Market Operator; penalties for retailers missing the guarantee have yet to be determined.
The idea is to avoid blackouts and keep the power system stable at a lower price. The government hopes that the average household could save between A$110 (US$86) and A$115 (US$90) per year for a decade from 2020. The plan includes a so-called reliability guarantee that will be set to deliver the right level of dispatchable power when required in each state.
---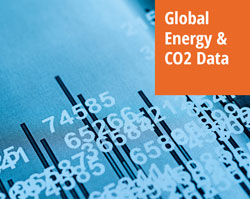 Then Global Energy Market Data & CO2 is your database! We provide world coverage of the oil, gas, coal, and power markets and a detailed overview of national supply & demand with annual data going back to 1970.
This energy database leverages more than 200 official data sources, which are processed by our analysts to provide fully harmonized data sets that are updated monthly.