Algeria's gas exports are expected to decrease by nearly 5% in 2020
According to the Ministry of Energy of Algeria, the country's total gas production is forecast to decline by 1% and gas exports are expected to decrease by 4.7% in 2020 to 41 bcm, down from nearly 43 bcm in 2019, due to a lower gas demand in Europe and the competition from cheaper US LNG supplies. In the long run, Algeria's natural gas exports should decrease by more than 40% to 2025 (26 bcm) due to stagnant production, rising domestic demand and insufficient investment.
Algeria aims to attract international investors to offset its declining production and to maintain its exports. In December 2019, the country adopted a new hydrocarbon law, which introduces new types of contracts for companies willing to cooperate with the national oil and gas company Sonatrach on projects, including production sharing, participation and risk services. The text also simplifies procedures for foreign investors.
---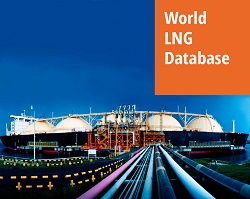 World LNG Database offers a complete set of data on LNG markets. The service provides detailed information on existing and planned liquefaction and regasification plants. It also includes LNG shipping around the world, LNG contracts, time series on regasification and liquefaction capacities, LNG flows and LNG prices for all players in the market.