The commission overseeing the call for tenders issued by Sonelgaz for 2 GW of solar capacity has shortlisted 77 out of 90 technical offers submitted by both Algerian and foreign companies, rejecting 13 bids due to missing required documentation. Sonelgaz is a state-owned utility in charge of power generation, transmission and distribution as wells as natural gas distribution in Algeria. The commission started to review of the selected proposals and, subsequently, specialised committees will assess these technical offers to ensure compliance with the specified requirements. Once the evaluation of the technical offers is completed, selected bidders will be summoned to attend the opening of the financial envelopes currently kept with a bailiff.
The 2,000 MW project entails the establishment of 15 photovoltaic solar power plants, distributed across 12 wilayas, with individual power capacities ranging from 80 to 220 MW. Additionally, the project includes the development of electricity connection facilities. This initiative forms part of the larger programme, aiming to develop 15,000 MW of solar PV capacity by 2035. In September 2023, tenders for the Solar 1000 project, overseen by the Algerian Renewable Company (SHAEMS), a joint venture between Sonelgaz and the national oil and gas company Sonatrach, will be initiated, followed by the launch of a 3,000 MW program in early November 2023.
Solar accounts for around 1.4% of Algeria's installed capacity and 0.8% of its power mix (2021).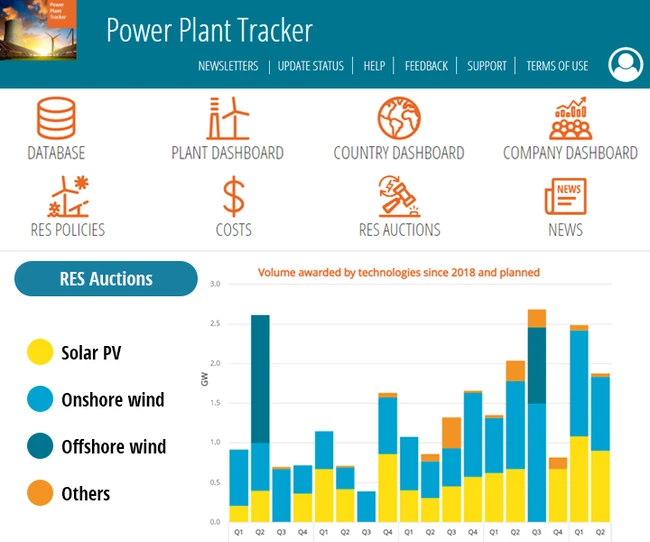 Discover our very detailed and regularly updated RES auctions database with worldwide coverage and a technical focus backed by academic research.
With our renewable energies auctions service you will be able to monitor auctions at a global level. Its (expanding) scope notably includes all major G20 countries and offers an especially fine tracking on Europe and South America.