The Albania-North Macedonia power interconnection enters construction
The Electricity Transmission System Operator of North Macedonia (MEPSO) has started building a 400 kV, 500 MW interconnection between Bitola (North Macedonia) and Fier, Elbasan (Albania). The project includes several components, including the 400 kV transmission line between Bitola 2, the Albanian border and the 400/100 kV Ohrid substation, which will be connected at 110 kV level to Ohrid, Struga and Resen. The construction agreement was signed in January 2020 with the Croatian company Končar, which won an international tender. The project for the interconnection of Albania and North Macedonia is expected to be commissioned in 2023. It represents an investment of €50m, which is financed with a grant of €12m from WBIF (Western Balkans Investment Framework), €37m from the EBRD (European Bank for Reconstruction and Development) and own funds of MEPSO.
---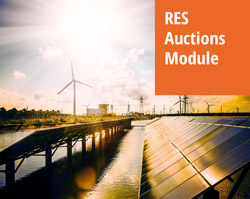 Discover our very detailed and regularly updated RES auctions database with worldwide coverage and a technical focus backed by academic research.
With our renewable energies auctions service you will be able to monitor auctions at a global level. Its (expanding) scope notably includes all major G20 countries and offers an especially fine tracking on Europe and South America.