Afreximbank commits US$400m to Mozambique LNG Project
The African Export-Import Bank (Afreximbank) has committed US$400m in guarantees and direct lending to the Mozambique LNG project, which is the first LNG development in the country and includes the construction of two liquefaction trains with a combined capacity of 13 Mt/year. Commercial operations are expected to start by 2024. The project is owned by Total (26.5%, stake acquired from Anadarko in October 2019), Mitsui (20%), ENH (15%), Beas Rovuma Energy Mozambique (10%), OVL (10%), BPRL Ventures Mozambique (10%), and PTTEP (8.5%).
In July 2020, the Japan Bank for International Cooperation (JBIC) approved a US$3bn loan agreement for the Mozambique LNG project, completing the US$14.4bn financing for the project, which has also received financial support from the African Development Bank (AfDB), the Export-Import Bank of the United States (US-Exim), UK Export Finance (UKEF), the Export-Import Bank of Thailand (Exim Thailand) and 21 private financial institutions. In June 2020, the government of Mozambique offered a US$2.25bn state guarantee to the project in lieu of an immediate equity contribution from the state-owned National Hydrocarbon Company (ENH).
---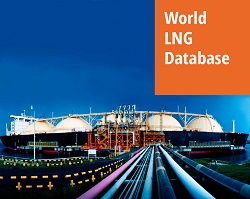 World LNG Database offers a complete set of data on LNG markets. The service provides detailed information on existing and planned liquefaction and regasification plants. It also includes LNG shipping around the world, LNG contracts, time series on regasification and liquefaction capacities, LNG flows and LNG prices for all players in the market.