The 3 bcm/year IGB Greece-Bulgaria gas interconnector starts operating
ICGB has comissionned the 3 bcm/year Interconnector Greece-Bulgaria (IGB) gas pipeline project between the northern Greek city of Komotini to Stara Zagora in Bulgaria. The 182 km project connects to the Trans Adriatic Pipeline (TAP) project, carrying Azeri gas, through the Turkey-Greece-Italy pipeline (ITGI), to the Trans Adriatic Pipeline (TAP) project and to the Revythoussa LNG terminal in Greece. The pipeline's capacity could later be raised to 5 bcm/year with reverse flow capacity (2025) by adding a compressor station.
The pipeline, selected as a Project of Common Interest (PCI) of the European Union, significantly improves the integration of energy markets in southeastern Europe (including Romania and Hungary) and helps diversify gas supplies away from Russia. The project, was developed by ICGB, a special purpose vehicle owned by the Bulgarian state-owned energy holding company BEH (50%) and IGI Poseidon, a 50-50 joint venture of DEPA (Greece) and Edison (Italy). The investment of €240m comprises €149m provided by the Bulgarian side, including a €110m state guarantee, and a grant of €39m from the European structural and investment funds.
---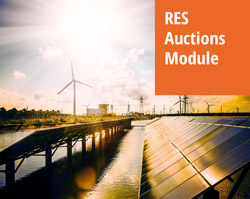 Discover our very detailed and regularly updated RES auctions database with worldwide coverage and a technical focus backed by academic research.
With our renewable energies auctions service you will be able to monitor auctions at a global level. Its (expanding) scope notably includes all major G20 countries and offers an especially fine tracking on Europe and South America.