20 countries plan to scrap their coal-fired power capacity before 2030
The Powering Past Coal Alliance (PPCA) was unveiled at the COP23 climate talks in Bonn (Germany) and twenty countries including the United Kingdom, Canada, Denmark, France, Italy, Portugal, Singapore and New Zealand have joined it in order to phase out coal from power generation before 2030. Besides, the PPCA also involves sharing technology to reduce emissions, such as carbon capture and storage. However, significant coal producers and consumers such as Australia, China, India, Indonesia, the United States and Germany did not join the alliance. In total, coal consumption from the group of 20 comprised countries just around 2% of the total coal consumed around the world.
The French government now aims at shutting down all its coal-fired plants by 2021 rather than by the 2022 target previously set, as part of action to reduce greenhouse gas (GHG) emissions. France currently has around 4.6 GW of coal fired capacity, including in particular the Cordemais, Gardanne and Le Havre facilities.
The Portuguese government plans to phase out its coal-fired power generation capacity before 2030 and confirmed that it will close the 1,100 MW Sines and the 564 MW Pego (628 MW gross) coal-powered facilities before this date. Besides, the government also aims at removing tax exemptions for coal-fired generation by 2018 to reach this objective and will reform the national carbon tax.
The PPCA alliance includes Angola, Austria, Belgium, Britain, Canada, Costa Rica, Denmark, El Salvador, Fiji, Finland, France, Italy, Luxembourg, the Marshall Islands, Mexico, the Netherlands, New Zealand, Niue, Portugal and Switzerland. The U.S. states of Washington and Oregon, as well as five Canadian provinces have also signed up.
---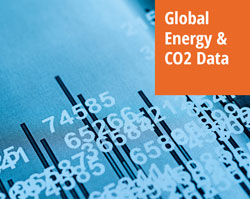 Then Global Energy Market Data & CO2 is your database! With world coverage of the oil, gas, coal and power markets and a detailed overview of national supply & demand annual data dating from 1970.
This energy database leverages more than 400 official data sources which are processed by our data specialists to provide fully harmonized data sets that are monthly updated.