The 1.5 GW Marinus Link project reaches new milestones (Australia)
Commonwealth and Victorian environmental referrals have been submitted for the 1,500 MW Marinus Link project connecting the Australian states of Tasmania and Victoria across the Bass Strait. The project would consist of two separate HVDC cables of 750 MW each and would run from northwest Tasmania near Burnie, where large renewable electricity generation and storage capacity are under development, to the Latrobe Valley in Victoria. Its estimated cost reaches AUD3.5bn (US$2.4bn). The first 750 MW phase is expected to be commissioned in 2027-2028 and the second one in 2029-2030; the transmission line should then be fully operational by 2030.
In 2019, the Tasmanian government state-owned electricity provider TasNetworks released the feasibility study and business case assessment for the Marinus Link project. At present, Tasmania can only export 500 MW as it is limited by the capacity of the existing interconnector Bass Link. The state aims to become the "Battery of the Nation" by boosting its pumped-storage hydropower capacity and by developing 2,000 MW of new wind power capacity over the next 15 years.
---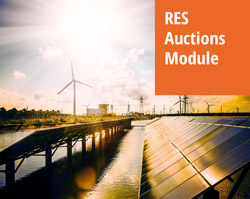 Discover our very detailed and regularly updated RES auctions database with worldwide coverage and a technical focus backed by academic research.
With our renewable energies auctions service you will be able to monitor auctions at a global level. Its (expanding) scope notably includes all major G20 countries and offers an especially fine tracking on Europe and South America.