1.4 GW Bellara CCGT power project in Algeria will start in October 2019
Compagnie de l'Engineering, de l'Energie et du Gaz (CEEG), the subsidiary of Algerian power utility Sonelgaz in charge of the construction of the 1,398 MW Bellara CCGT power project in El Milia, expects to commission two gas turbines by October 2019. The power project, located in the wilaya of Jijel (northeastern Algeria), would operate in simple cycle mode until June 2020, when it will be fully commissioned and will start combined-cycle operations.
The US$1.5bn power project entered construction in 2013 and is currently 85% complete. The CCGT power plant is aimed at ensuring power supply to a steel complex currently being developed at Bellara. Excess power generation will be injected into the national power network.  The Bellara project is part of a larger programme to add 6 CCGT power plants, with a combined capacity of 8,000 MW. General Electric (GE) was selected to provide equipments for all the projects, including 34 gas and steam turbines.
---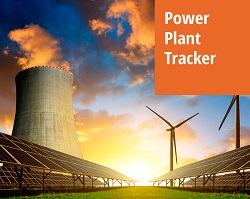 Enerdata has developed a market research service to screen, monitor and analyse the development of power generation assets.
Power Plant Tracker offers an interactive database and a powerful search engine covering power plants worldwide – including both installed and planned capacities for renewables and fossil fuels.