Uzbekistan Energy Information
Population: 32.9 million
GDP growth rate: 5.13 %/year
Energy independence: 100%

Data of the last year available: 2018
Total consumption/GDP:* 28.6 (2015=100)
CO2 Emissions: 2.65 tCO2/capita
Rate of T&D power losses: 17.1%

* at purchasing power parity
View all news, archive your new and create your own daily newsletters only on your topics/countries of interest with Key Energy Intelligence
Uzbekistan Related Research
Total Energy Consumption
In 2018, the total energy consumption per capita was about 1.1 toe, while the electricity consumption per capita was around 1 500 kWh.
The total energy consumption decreased very rapidly between 2012 and 2016 (-8%/year). It increased by 5% in 2018.
Uzbekistan's energy intensity was among the highest in the world, but is now decreasing very rapidly (-10%/year since 2011).
Gas represents the main part of the country's total energy consumption with 86%, followed by oil with 7%, coal and lignite with 6%, and hydroelectricity with 1%.
Interactive Chart Uzbekistan Total Energy Consumption
Crude Oil Production
Oil production has been decreasing by an average of 6.3%/year since 2000, from 7.7 Mt in 2000 to 2.5 Mt in 2018. This trend is expected to continue as oil and gas companies shift their focus to gas production.
In 2019, Uzbekistan had a total oil refining capacity of 224 000 bbl/d from its three refineries located in Ferghana (108 000 bbl/d), Alty-Arik (66 000 bbl/d) and Bukhara (50 000 bbl/d). They are operated at only 20% of their capacity.
In 2017, Russia started to supply oil to the country through the Omsk-Pavlodar-Shymkent pipeline. The volume amounted 12 Mt in 2018.
Interactive Chart Uzbekistan Crude Oil Production
Renewable in % Electricity Production
In 2017, the Government launched a state programme to support the development of renewables. According to this programme, the country will spend US$81m and plans to raise US$5.3bn from foreign sources to develop hydro, wind and solar power by 2025.
As part of its renewable energy strategy, the Government announced in 2017 plans to add 500 MW of solar capacity over 2017-2021, divided in five 100 MW installations. Total investments for the plan will amount US$1.1bn.
Interactive Chart Uzbekistan Share of Renewables in Electricity Production (incl hydro)
CO2 Fuel Combustion/CO2 Emissions
Uzbekistan submitted its NDC to the UNFCCC in 2017. The country plans to reduce specific emissions of greenhouse gases per unit of GDP by 10% by 2030 from 2010 levels.
CO2 emissions from energy combustion decreased by 28% between2012 and 2016 and increased by 6% in 2018 to 87 MtCO2.
Graph: CO2-ENERGY EMISSIONS (MtCO2)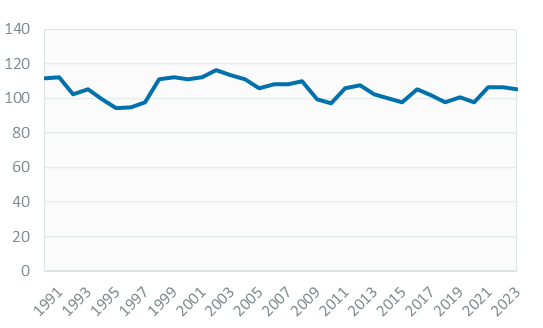 Shopping cart
Your shopping cart is empty.
Secured payment by