Papua New Guinea Energy Information
Papua New Guinea Key Figures
Population: 8.61 million
GDP growth rate: -0.8 %/year
Energy independence: 100%

Data of the last year available: 2018
Total consumption/GDP:* 76.3 (2015=100)
CO2 Emissions: 0.85 tCO2/capita
Rate of T&D power losses: 2.35%

* at purchasing power parity
Papua New Guinea Related News
View all news, archive your new and create your own daily newsletters only on your topics/countries of interest with Key Energy Intelligence
Papua New Guinea Related Research
Total Energy Consumption
Total energy consumption per capita reached 0.52 toe in 2018. Electricity consumption per capita is 580 kWh (2018).
Total energy consumption increased by 12% in 2018. It is mainly covered by oil (48%) and biomass (33%). Hydropower and geothermal (primary electricity) and gas cover the remainder (10% and 9%, respectively).
Graph: CONSUMPTION TRENDS BY ENERGY SOURCE (Mtoe)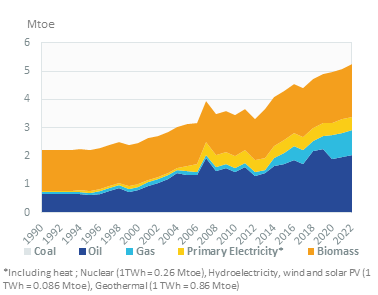 Graph: TOTAL CONSUMPTION MARKET SHARE BY ENERGY (2018, %)
Interactive Chart Papua New Guinea Total Energy Consumption
Crude Oil Production
After several years of very irregular production since 2009 (between 0 and 1.3 Mt), crude oil production stopped in 2015. Before 2009, PNG's oil production declined steadily from around 3.6 Mt in 2000 to 2 Mt in 2009.
The country has one refinery with a capacity of 32 500 bbl/d.
Interactive Chart Papua New Guinea Crude Oil Production
CO2 Fuel Combustion/CO2 Emissions
The Papua New Guinea Climate Change (Management) Act 2015 established the Climate Change Development Authority and the Climate Change and Green Growth Trust Fund.
In 2016, the Government submitted its NDC: it aims to become carbon free by 2030 in the electricity sector (100% renewables) if funds are available, which corresponds to the official 2050 target of PNG's Vision 2050.
CO2 emissions from energy combustion have quadrupled since 1990, reaching 7.3 MtCO2 in 2018, with significant fluctuations.
Graph: CO2-ENERGY EMISSIONS (MtCO2)
Shopping cart
Your shopping cart is empty.
Secured payment by