Germany Energy Information
Population: 83.4 million
GDP growth rate: 3.00 %/year
Energy independence: 35.6%

Data of the last year available: 2021
Total consumption/GDP:* 69.8 (2005=100)
CO2 Emissions: 7.81 tCO2/capita
Rate of T&D power losses: 5.00%

* at purchasing power parity
View all news, archive your new and create your own daily newsletters only on your topics/countries of interest with Key Energy Intelligence
Total Energy Consumption
Per capita consumption is 3.4 toe (2021). Per capita electricity consumption is 6 030 kWh.
Germany is the largest energy consumer in Europe. Total consumption decreased by 1.2%/year between 2016-2019, with a significant drop (-6%) in 2020. In 2021, total consumption increased by 2.5%, reaching 286 Mtoe.
Graph: CONSUMPTION TRENDS BY ENERGY SOURCE (Mtoe)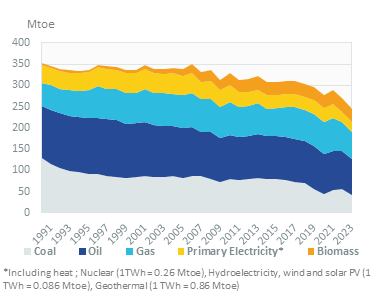 Graph: TOTAL CONSUMPTION MARKET SHARE BY ENERGY (2021, %)
Interactive Chart Germany Total Energy Consumption
Crude Oil Production
Germany relies on imports for more than 97% of its crude oil supply with a production of 3.1 Mt in 2021. The country imported nearly 82 Mt of crude oil in 2021, about 30% of which came from Russia. Following the conflict between Russia and Ukraine, the country has committed to stop Russian oil imports by the end of 2022.
Germany has 12 refineries in operation with a total capacity of 2.1 mb/d. The five biggest refineries are MiRo (298 kb/d), Gelsenkirchen (257 kb/d), Leuna (241 kb/d), Schwedt (232 kb/d), and Ingolstadt (206 kb/d).
Interactive Chart Germany Crude Oil Production
Oil Products Consumption
From 2012 to 2019, the consumption of oil products remained relatively flat at around 100 Mt. In 2020, consumption dropped by 8% to 92 Mt due to Covid related travel restrictions and remained quite stable in 2021.
Graph: OIL CONSUMPTION (Mt)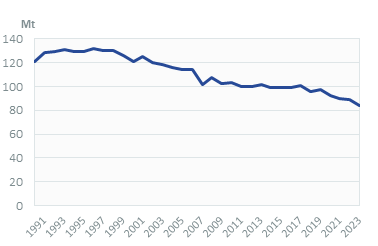 Half of oil products are consumed in transport (49%), followed by the residential sector (17%) and power plants (11%).
Graph: OIL CONSUMPTION BREAKDOWN BY SECTOR (2021, %)
Interactive Chart Germany Refined Oil Products Production
Natural Gas Consumption
Natural gas consumption increased by 3.9%/year over 2015-2019. After a 2% reduction in 2020, it increased by around 4% in 2021 to 96 bcm.
Graph: NATURAL GAS CONSUMPTION (bcm)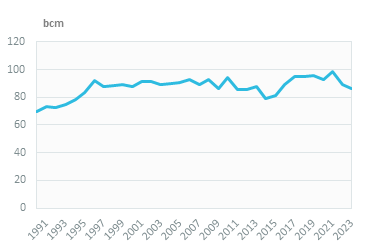 In 2021, buildings (residential, services, and agriculture) accounted for 44% of the gas consumption; this is trailed by the industrial (30%) and power sectors (21%).
Graph: GAS CONSUMPTION BREAKDOWN BY SECTOR (2021, %)
Interactive Chart Germany Natural Gas Domestic Consumption
Coal Consumption
Coal and lignite consumption decreased by 8%/year between 2015 and 2018. In 2019, it dropped by 22% and in 2020 by another 18%, following the closure of 9 GW of coal-and lignite fired power plants. In 2021, coal and lignite consumption increased by 18%, to 164 Mt, with improved competitivity for coal due to gas prices rises.
Graph: COAL CONSUMPTION (Mt)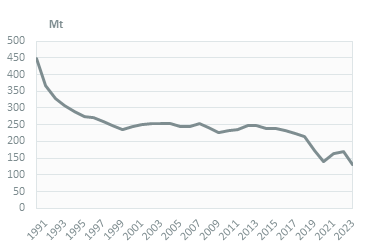 The power sector absorbs 85% of coal and lignite consumption and industry accounts for 10%.
Interactive Chart Germany Coal and Lignite Domestic Consumption
Power Consumption
Electricity consumption decreased by 0.6%/year between 2010 and 2019, with an acceleration since 2017 (1%/year). It dropped by 5% in 2020 and increased again by 2.6% in 2021 to 503 TWh.
Graph: ELECTRICITY CONSUMPTION (TWh).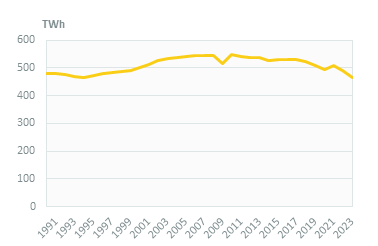 Electricity consumption is dominated by industry (43% in 2021), followed by the residential sector (26%) and services (25%).
Graph: ELECTRICITY CONSUMPTION BREAKDOWN BY SECTOR (2021, %)
Renewable in % Electricity Production
The Federal Office of Economics and Export Control (BAFA), within BMWi, is the agency that funds the development of renewables.
The official target of 18% of renewables in final consumption in 2020 was exceeded by 1.3 points (19.3%), with 14.8% for heating and cooling (-0.7 points below target), 44.7% for electricity (+4.9 points), and 9.9% for transport (-4.4 points). The NECP raised this share to 30% of final consumption in 2030.
Interactive Chart Germany Share of Renewables in Electricity Production (incl hydro)
CO2 Fuel Combustion/CO2 Emissions
According to first estimates of the German Environment Agency, GHG emissions increased by 4.5% in 2021 to around 762 MtCO2eq, which is 39% lower than in 1990. Previously, between 2016 and 2020, they declined by an average of 5.1%/year (including -8.9% in 2020).
Shopping cart
Your shopping cart is empty.
Secured payment by