Belarus Energy Information
Population: 9.48 million
GDP growth rate: 1.22 %/year
Energy independence: 16.3%

Data of the last year available: 2019
Total consumption/GDP:* 63.2 (2005=100)
CO2 Emissions: 6.20 tCO2/capita
Rate of T&D power losses: 7.54%

* at purchasing power parity
View all news, archive your new and create your own daily newsletters only on your topics/countries of interest with Key Energy Intelligence
Total Energy Consumption
Per capita energy consumption stands at 2.8 toe (2019), including approximately 3 500 kWh of electricity.
Total energy consumption increased by 5% in 2018 and remained stable in 2019 (26.7 Mtoe); previously, it had remained roughly stable between 2015 and 2017 (around 25 Mtoe).
Graph: CONSUMPTION TRENDS BY ENERGY SOURCE (Mtoe)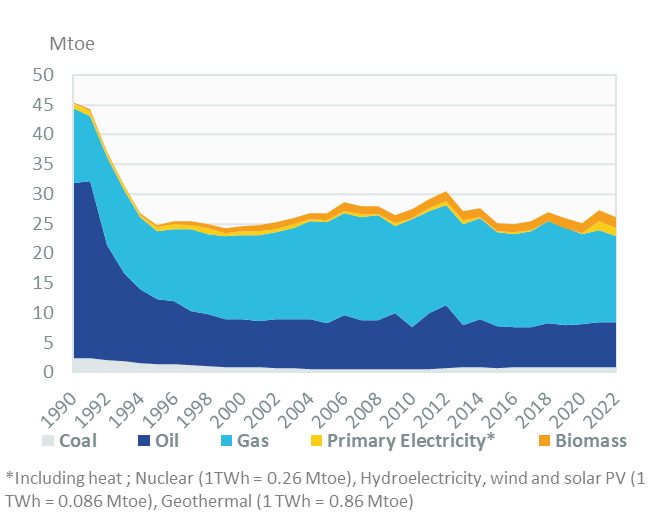 Interactive Chart Belarus Total Energy Consumption
Crude Oil Production
Oil production is limited; it has remained roughly stable since 2012 at 1.8 Mt. Oil production is located in the Pripyat area in the southeast of the country. All crude oil supplies come from Russia.
The country has two refineries, one in Mozyr (capacity of 240 kb/d) and one in Novopolotsk, operated by Naftan (222 kb/d).
The refining capacity is higher than the domestic needs, making Belarus a net exporter of oil products (around 70% of total production since 2010).
Interactive Chart Belarus Crude Oil Production
Renewable in % Electricity Production
The government is aiming to reach a 9% share of renewables in the energy mix by 2035 (6.5% in 2019). Electricity generation from renewables is expected to grow 10-fold to 2.6 TWh by 2035.
Interactive Chart Belarus Share of Renewables in Electricity Production (incl hydro)
CO2 Fuel Combustion/CO2 Emissions
In its NDC, Belarus committed to reducing GHG emissions by at least 28% below the 1990 level by 2030, excluding emissions and removals in land use, land-use change, and the forestry sector, and without any additional conditions.
Belarus's energy-related CO2 emissions were stable between 2005 and 2014, decreased until 2016, and then rose slightly to around 64 Mt in 2019. They are well below their 1990 level (-41%).
Graph: CO2-ENERGY EMISSIONS (MtCO2)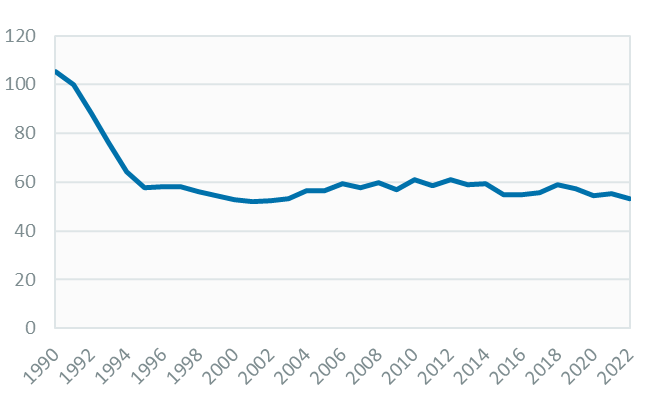 Shopping cart
Your shopping cart is empty.
Secured payment by