TAQA and ADNOC will invest US$3.6bn to decarbonise UAE operations
Abu Dhabi National Energy Company (TAQA) and Abu Dhabi National Oil Company (ADNOC) have decided to invest US$3.6bn to decarbonise ADNOC's offshore production operations in the United Arab Emirates (UAE). The two companies will set up a special purpose vehicle (SPV), in which they will each own 30%, in partnership with a consortium of Korea Electric Power Corporation (KEPCO), Japan's Kyushu Electric and EDF that will own the remaining 40%. The consortium will develop and operate a high-voltage direct current (HVDC-VSC) subsea transmission system, which will connect to the TAQA-operated Abu Dhabi onshore power grid and will supply power to ADNOC's offshore production operations. The project will consist of two independent HVDC lines with a combined capacity of 3.2 GW and converter stations, which will replace existing offshore gas turbine generators and should cut CO2 emissions from ADNOC's operation by over 30%. It is subject to relevant regulatory approvals and construction is expected to start in 2022 with commercial operations as soon beginning as soon as 2025.
---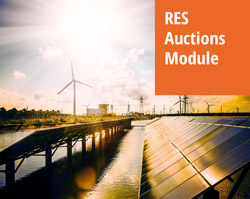 Discover our very detailed and regularly updated RES auctions database with worldwide coverage and a technical focus backed by academic research.
With our renewable energies auctions service you will be able to monitor auctions at a global level. Its (expanding) scope notably includes all major G20 countries and offers an especially fine tracking on Europe and South America.