Saudi Arabia and Iraq agree on a 1 GW, 400 kV power transmission line
Saudi Arabia and Iraq have signed the executive report on the principles of the electricity interconnection agreement for a 1 GW line. The 400 kV, 435 km-long line will connect the town of Arar in northern Saudi Arabia to the city of Yusufiya in central Iraq. The project is expected to be commissioned in 2023 or 2024.
In addition, the Gulf Cooperation Council Interconnection Authority (GCCIA) agreed to link its network with the electricity grid of southern Iraq. The GCCIA agreement includes the authority's construction of lines from its substation in Kuwait to the Al-Faw station in southern Iraq to supply it with approximately 500 MW of energy from the Gulf countries, with a total transmission capacity of 1.8 GW. The project is estimated to require two years to complete.
In September 2020, Iraq also reached an agreement with Jordan to link their power grids and Jordan accepted to provide Iraq with 1 TWh/year starting in December 2022. The two countries could increase the exchanges on a later stage. In 2020, Iraq imported 11.8 TWh of electricity, mainly from Iran, accounting for 26% of the country's power consumption.
---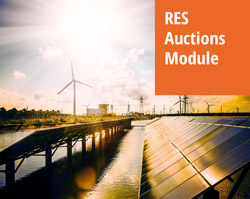 Discover our very detailed and regularly updated RES auctions database with worldwide coverage and a technical focus backed by academic research.
With our renewable energies auctions service you will be able to monitor auctions at a global level. Its (expanding) scope notably includes all major G20 countries and offers an especially fine tracking on Europe and South America.