Rosatom, Framatome and GE team up for Belene nuclear project (Bulgaria)
Rosatom, Framatome (former Areva) and General Electric (GE) have signed a Memorandum of Understanding (MoU) to work together to participate in the tender for the construction of 2 GW Belene nuclear power project in Bulgaria. As part of the agreement, if Rosatom is selected by Bulgaria to become a strategic investor, Framatome and General Electric would supply equipment for the plant. The €10bn project should be developed by a special company, in which the national electricity company NEK (Natsionalna Elektricheska Komapania) should own a stake. The government doesn't plan to provide any funding guarantees, nor to buy electricity from the project under a long-term contract and requires the project to be commissioned within ten years of signing a shareholder's agreement.
The construction of the Belene power plant started in 1987 but was stopped in 1991 under the pressure of ecological movements and neighbouring countries. The project was revived in 2002 and Atomstroyexport was selected to build two 1,000 MW VVER-1000 reactors. However, the project failed to attract investors and aroused concerns over Bulgaria's energy dependence on Russia. It was cancelled in 2012, prompting Atomstroyexport to file a lawsuit against the Bulgarian Government and to claim €1bn in damages. In December 2016, Bulgaria had to pay €620m to settle the deal. However, the Bulgarian government revived the project in May 2018 and announced that it would hold a blocking stake in the future project venture.
In August 2019, seven companies expressed interest in taking part to the project as strategic investors, namely Rosatom (through Atomenoergoprom), China National Nuclear Corporation (CNNC), Korea Hydro Nuclear Power (KHNP), Bektron-Liaz Technical Engineering (Germany), two consortia (Belene NPP and Nuclear Power Plant Belene 2019) and a Bulgarian company IPK and UP. Moreover, Framatome and GE had declared interest in taking part in structuring the financing of the project and in providing equipment for the project. Two Bulgarian companies had expressed interest in acquiring a minority shareholding in the company, namely Atomenergoremont and Grand Energy Distribution. In December 2019, Rosatom, CNNC and KHNP were selected by Bulgaria to file binding offers as strategic investors in its Belene nuclear power plant project, while Framatome and GE were invited to send offers for equipment and funding.
---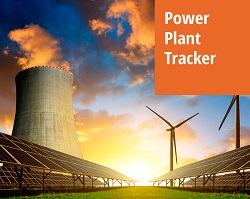 Enerdata has developed a market research service to screen, monitor and analyse the development of power generation assets.
Power Plant Tracker offers an interactive database and a powerful search engine covering power plants worldwide – including both installed and planned capacities for renewables and fossil fuels.