Perenco and SNH agree to increase LNG output from Hilli Episeyo (Cameroon)
The Hilli Episeyo FLNG, which is moored 14 km off the coast of Kribi in Cameroon, will continue to produce LNG from 2023 to July 2026. Perenco, an independent oil and gas company, and the Cameroonian state-owned national oil and gas company Société nationale des hydrocarbures (SNH) agreed in 2021 to boost utilisation of the FLNG in 2022 to 1.4 Mt/year. In January 2023, LNG production from Hilli Episeyo should increase to 1.6 Mt/year. Natural gas is sourced from Perenco's Sanaga and Ebomé gas fields.
The converted FLNG vessel, owned by Golar LNG, is designed to produce 2.4 Mt/year of LNG, with a storage capacity of 125,000 cm. It also supplies 30,000 t of domestic gas and 5,000 bbl/d of condensate. Under an 8-year purchase agreement, the Russian energy group Gazprom is the sole off-taker from the project, which entered production in 2018. In 2021, Cameroon produced 1.8 bcm of LNG (+13% compared to 2020).
---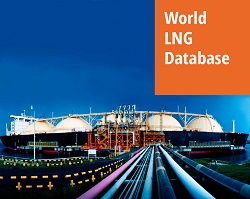 World LNG Database offers a complete set of data on LNG markets. The service provides detailed information on existing and planned liquefaction and regasification plants. It also includes LNG shipping around the world, LNG contracts, time series on regasification and liquefaction capacities, LNG flows and LNG prices for all players in the market.