Israel and Jordan collaborate on renewable power projects
The governments of Israel and Jordan, under the auspices of the United Arab Emirates, have signed a declaration of intent to jointly build renewable electricity and water desalination capacity. Under the terms of the agreement, Jordan will develop 600 MW of solar PV capacity and export their power generation to Israel; meanwhile, Israel will develop a sustainable water desalination programme that will supply up to 200 mcm of desalinated water to water-scarce Jordan. Feasibility studies are expected to start in 2022. The length of the agreement was not disclosed.
Israel, which aims to reach 20% of renewables in power generation in 2025 and 30% by 2030, approved a plan to deploy around 15 GW of solar capacity to help meet these targets and has pledged to reach net-zero emissions by 2050, up from a previous target of reducing its emissions by 85% by 2050. The country is already exporting gas from its offshore Tamar field to Jordan through a pipeline located in the Sdom Area in the Dead Sea; in 2014, Jordan agreed to import 2 bcm over 15 years. Jordan has also signed a 3 bcm/year contract with Noble Energy to import gas from Levathian field.
---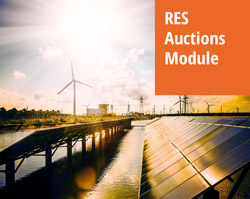 Discover our very detailed and regularly updated RES auctions database with worldwide coverage and a technical focus backed by academic research.
With our renewable energies auctions service you will be able to monitor auctions at a global level. Its (expanding) scope notably includes all major G20 countries and offers an especially fine tracking on Europe and South America.