Georgia Power completes new milestone at Vogtle 3 nuclear project (US)
Georgia Power (part of the Southern Company group) has completed the placement of concrete inside the containment vessel of the the Vogtle nuclear power plant in Waynesboro, Georgia (United States), paving the way for the installation of machinery to load fuel into the reactor. The Vogtle nuclear expansion project consists in adding two AP1000 reactors of 1,117 MW each (1,250 MW gross) on the site of the Vogtle nuclear power plant (currently composed of two 1,229 MW gross reactors commissioned in 1987 and 1989). The project is led by Georgia Power (45.7% of the plant), Oglethorpe Power Corporation (30%), the Municipal Electric Authority of Georgia (22.7%) and held by Dalton Utilities (1.6%). The project has been hit by years of delays and costs escalations, with the construction cost now exceeding US$20bn. Construction was initially led by Westinghouse, which filed for bankruptcy in March 2017. However, construction has been moving forward uninterrupted even since then and the units are expected to be commissioned in November 2021 and November 2022, respectively.
---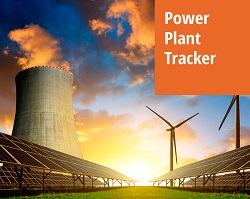 Enerdata has developed a market research service to screen, monitor and analyse the development of power generation assets.
Power Plant Tracker offers an interactive database and a powerful search engine covering power plants worldwide – including both installed and planned capacities for renewables and fossil fuels.