Gemcorp takes FID on its 3 Mt/year Cabinda refinery project in Angola
Gemcorp Capital has taken a final investment decision (FID) on its 60,000 bbl/d (3 Mt/year) Cabinda refinery project in Malembo, in the Cabinda Province of Angola. The British investment firm has completed site preparation and front-end engineering and design (FEED) for the refinery and received a licence in May 2020, investing US$30m in the first phase of the project.
In January 2020, Angola's national oil company Sonangol signed a Memorandum of Understanding (MoU) with Gemcorp Capital to build a 60,000 bbl/d refinery in the Cabinda province. The project will be developed in three phases, with a first 30,000 bbl/d phase expected for the first quarter of 2022 (production of diesel and gasoline). The second phase will add another 30,000 bbl/d in the second quarter of 2023, while the third phase will focus on improving the products specifications, including diesel, gasoline, kerosene, fuel oil and jet fuel. The project is expected to be fully operational in the second quarter of 2024. It had been previously awarded to a company named United Shine, but Sonangol revoked its contract in December 2019.
---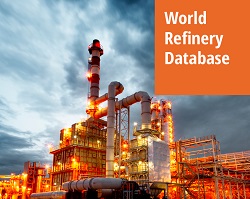 Use this powerful business intelligence tool to assess current and future production capacities of oil products by country and by zone. Gain insight into companies' asset portfolios and future trends for refined oil production capacities, giving you the ultimate edge for strategy and decision-making.