Europe installed 3.6 GW of new offshore wind capacity in 2019
According to the European wind association WindEurope, installed offshore wind capacity in Europe reached a new record in annual installations with 3.6 GW connected to the grid in 2019 and raising Europe's total offshore wind capacity to 22.1 GW at the end of 2019. Nearly half of these new offshore capacities were installed in the United Kingdom (+1,760 MW), followed by Germany (+1,111 MW), Denmark (+374 MW) and Belgium (+370 MW). In addition, Portugal commissioned an 8 MW floating offshore wind park, raising Europe's floating wind capacity to 45 MW.
The increase in offshore wind capacity was spurred by falling costs: 2019 auctions in the United Kingdom, France and the Netherlands achieved €40-50/MWh prices, i.e. cheaper tariffs than new coal-fired, gas-fired or nuclear power plants. Final investment decisions were made for 4 new offshore projects totalling 1.4 GW in capacity and requiring around €6bn in investments.
According to the European Commission, Europe would need 230 to 450 GW of offshore wind capacity by 2050 to decarbonise its energy system. This would correspond to building 7 GW per year of new offshore wind capacity until 2030 (when the 100 GW milestone should be reached) and accelerating annual installations to 18 GW per year by 2050.
---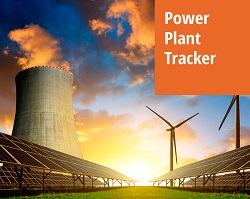 Enerdata has developed a market research service to screen, monitor and analyse the development of power generation assets.
Power Plant Tracker offers an interactive database and a powerful search engine covering power plants worldwide – including both installed and planned capacities for renewables and fossil fuels.