Eni acquires Tango FLNG facility to deploy it in Congo
Eni has acquired the company Export LNG, which owns the Tango FLNG floating liquefaction facility, from Exmar group. The facility will be used by Eni in the Republic of Congo, as part of the activities of the natural gas development project in the Marine XII block.
The Tango FLNG, built in 2017, has a treatment capacity of 3 mcm/d and an LNG production capacity of 0.6 Mt/year (about 1 bcm/y). The facility is expected to begin its activity in Congo in the second half of 2023, following the completion of mooring and connection works necessary to tie with the Marine XII network and infrastructure. The value of the transaction for the sale of tango FLNG ranges between US$572m and US$694m, depending on the actual performance of the Tango FLNG during the first six months on site. LNG production from Marine XII is expected to begin in 2023, and when fully operational it will provide volumes in excess of 3 Mt/year (over 4.5 bcm/y). In April 2022, Eni signed a Letter of Intent (LoI) with the Congo government for the project. 
Eni is the leading natural gas producer in Congo. The country's marketed gas production increased tenfold between 2010 (103 mcm) and 2019 (1 bcm) before falling by 30% in 2020 to around 700 mcm. Congo does not currently produce or export LNG.
In March 2022, Eni selected New Fortress Energy (NFE) to deploy a 1.4 Mt/year LNG export facility in Congo for a period of 20 years. The two companies signed a Heads of Agreement (HoA), which provides a framework for negotiating a long-term tolling agreement between NFE and Eni for the full capacity of the facility and for the purchase of LNG by NFE. Commissioning is scheduled for the second quarter of 2023.
---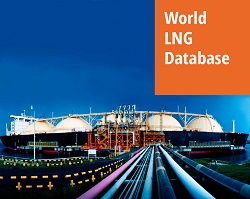 World LNG Database offers a complete set of data on LNG markets. The service provides detailed information on existing and planned liquefaction and regasification plants. It also includes LNG shipping around the world, LNG contracts, time series on regasification and liquefaction capacities, LNG flows and LNG prices for all players in the market.