Abu Dhabi (UAE) awards contracts for the 3.5 bcm/year Dalma gas project
The Abu Dhabi National Oil Company (ADNOC) has awarded two engineering, procurement and construction (EPC) contracts totalling US$1.46bn (AED5.36bn) for the Dalma Gas Development Project in the United Arab Emirates (UAE). Package A of the two Dalma EPC contracts was awarded to NPCC and is valued at $514m (AED1.89bn); it covers the EPC of four offshore wellhead towers, pipelines and umbilicals in Hair Dalma, Satah, and Bu Haseer fields. Package B, awarded to the Técnicas Reunidas and Target Engineering JV, is valued at US$950 million (AED3.49bn) and covers the EPC of gas conditioning facilities for gas dehydration, compression and associated utilities on Arzanah Island located 80 kilometers from Abu Dhabi.
The offshore Dalma field, part of the Ghasha Concession, is located 190 kilometers northwest of the Emirate of Abu Dhabi and is the largest offshore sour gas development. Both engineering contracts are expected to be completed in 2025 and will enable the Dalma field to produce around 3.5 bcm/year of natural gas. Gas production from the Ghasha Concession will ramp up and should produce more than 1.5 bcf/d of gas (42.4 mcm/d or 15.5 bcm/year) and 120,000 bbl/d of oil before 2030.
---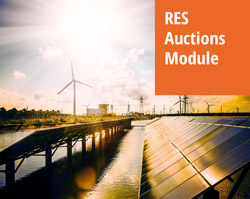 Discover our very detailed and regularly updated RES auctions database with worldwide coverage and a technical focus backed by academic research.
With our renewable energies auctions service you will be able to monitor auctions at a global level. Its (expanding) scope notably includes all major G20 countries and offers an especially fine tracking on Europe and South America.