Ecuador Energy Information
Population: 17.4 million
GDP growth rate: 0.05 %/year
Energy independence: 100%

Data of the last year available: 2019
Total consumption/GDP:* 89.5 (2005=100)
CO2 Emissions: 2.11 tCO2/capita
Rate of T&D power losses: 14.3%

* at purchasing power parity
View all news, archive your new and create your own daily newsletters only on your topics/countries of interest with Key Energy Intelligence
Total Energy Consumption
Per capita energy consumption is around 0.89 toe, a level 33% below the South American average (2019). Per capita electricity consumption is approximately 1 500 kWh.
Energy consumption has been roughly stable since 2015 (14.5 Mtoe in 2019) as a result of low economic growth, after a rapid increase between 2005 and 2015 (3.7%/year).
Oil supplies 81% of the country's total energy consumption, hydroelectricity 13%, biomass 4%, and gas 3% (2019).
Graph: CONSUMPTION TRENDS BY ENERGY SOURCE (Mtoe)
Interactive Chart Ecuador Total Energy Consumption
Crude Oil Production
Oil production has remained stable since 2017, after a slight decrease over 2014-2017 (28 Mt in 2019). It increased by 3%/year between 2009 and 2014, following the inauguration of the Panacocha field. Production comes from the east of the country, with the most productive fields being Shushufindi, Sacha, Auca, ITT, Libertador, and Lago Agrio.
Crude oil production started at Tiputini in the Yasuni national park in the Amazon region in 2016. The ITT field (Ishpingo, Tambococha, Tiputini) reached an average production of 72 000 kb/d in 2019 and resources are estimated at 1 640 mbl.
Interactive Chart Ecuador Crude Oil Production
Renewable in % Electricity Production
The National Plan for Good Living 2017-2021 establishes the target of reaching 90% of electricity generation from renewables (including hydropower) in 2021 (76% reached in 2019).
From 2000 to 2016, to encourage the development of renewables, Conelec (the previous regulator) implemented Feed-in Tariffs (FiTs). The FiTs evolved over time in terms of duration, rates and technologies included. During the multiple revisions, the number of technologies included was reduced and, in 2014-2016, the FiTs were available for only biomass and small hydropower plants.
Interactive Chart Ecuador Share of Renewables in Electricity Production (incl hydro)
CO2 Fuel Combustion/CO2 Emissions
In its revised NDC (March 2019), Ecuador aims to reduce its GHG emissions by 20.9% from BAU levels in 2025. This reduction target could be raised to 32.8%, provided the availability of international support.
CO2 emissions from fuel combustion rose by 7% from 2017 to 2019 due to higher oil consumption, after a 4%/year decrease between 2015 and 2017. Previously, they had increased 2-fold between 2000 and 2014 (5.5%/year).
Graph: CO2-ENERGY EMISSIONS (MtCO2)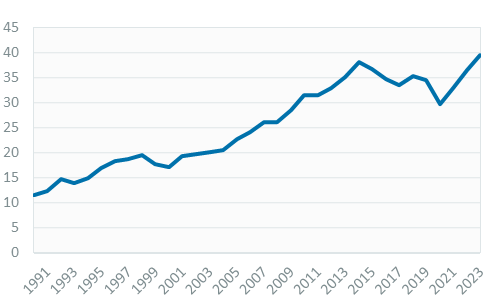 Shopping cart
Your shopping cart is empty.
Secured payment by