Colombia Energy Information
Population: 51.1 million
GDP growth rate: -6.1 %/year
Energy independence: 100%

Data of the last year available: 2020
Total consumption/GDP:* 89.0 (2005=100)
CO2 Emissions: 1.49 tCO2/capita
Rate of T&D power losses: 7.00%

* at purchasing power parity
View all news, archive your new and create your own daily newsletters only on your topics/countries of interest with Key Energy Intelligence
Colombia Related Research
Total Energy Consumption
Per capita consumption is around 0.8 toe and 1 400 kWh of electricity (2020).
Total energy consumption dropped in 2020 by 6% to 39 Mtoe. Previously it had fluctuated around 39-41 Mtoe between 2015 and 2019.
Graph: CONSUMPTION TRENDS BY ENERGY SOURCE (Mtoe)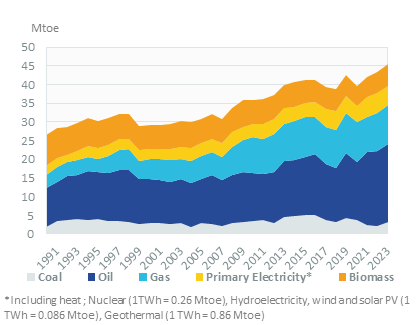 Graph: TOTAL CONSUMPTION MARKET SHARE BY ENERGY (2020, %)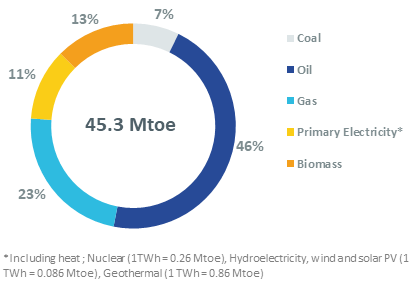 Interactive Chart Colombia Total Energy Consumption
Crude Oil Production
In 2020, the pandemic led to a 6% drop in oil production to 43 Mt. Production increased by 2.4% in 2019 to 46 Mt after decreasing from 52 Mt in 2015 to 45 Mt in 2018. Between 2007 and 2011, it rose at the very rapid pace of 15%/year thanks to greater investments in the sector.
The total capacity of oil pipelines reached 1.2 mb/d.
Interactive Chart Colombia Crude Oil Production
Renewable in % Electricity Production
The National Development Plan 2018-2022 set a target of 10% of wind and solar in the power mix set for 2022. The Ministry of Mines and Energy now expects to reach a share of 12%.
Two power auctions were held in 2019 (Auction CLPE No. 01 - 2019 and Auction CLPE No. 02 - 2019) and one was announced in 2021 (Auction CLPE No. 01 - 2021). The 2019 auctions awarded 1 GW of wind and 0.2 GW of solar to be commissioned in 2022/2023. The 2021 auction is expected to award 5 GW that should be commissioned as soon as end-2022.
Interactive Chart Colombia Share of Renewables in Electricity Production (incl hydro)
CO2 Fuel Combustion/CO2 Emissions
According to its first NDC update (December 2020), Colombia has pledged to cut GHG emissions by at least 52% in 2030 compared to a BAU scenario. It is also committed to reducing black carbon by 40% compared to 2014 levels. In April 2021, the government launched the Carbon Neutral Colombia strategy with aim of reaching carbon neutrality by 2050.
Shopping cart
Your shopping cart is empty.
Secured payment by