How did the future of our 2nd carbon-free power source become so uncertain?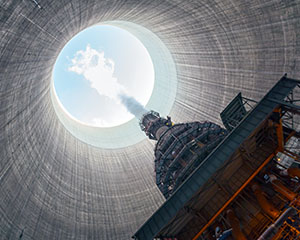 In this publication, we examine the status of nuclear power generation in several countries around the world – including where nuclear capacities are increasing, where they're being phased out, and what these changes could mean for the energy transition.
The key findings of this report are:
Understanding the Global Power Mix
Nuclear Phase-Outs
Controversial Technologies
Asia: Soaring Demand & Need for a Carbon-Free Base
Nuclear Comebacks
Countries Maintaining an Uneasy Status Quo
What Role will Nuclear Play in the Energy Transition?
Request the full publication (FREE)
Understanding the Global Power Mix
The world's 421 operational nuclear reactors have a pivotal position in the power mix: Not at the top with coal, gas and hydro, but not as small or as popular with the public as renewables. 
Nuclear energy has two clear leaders: The US, which as of 2017 produces more than three times as much power from nuclear reactors as China; and France, which accounts for half of the EU's production.
Current and Future Leaders in Nuclear Power Production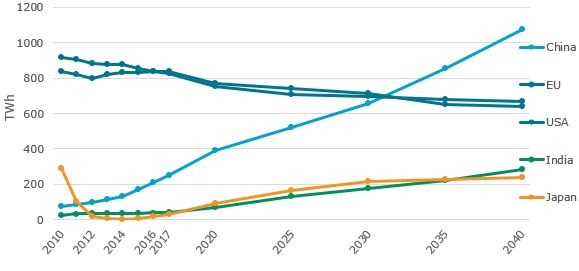 Source: Enerdata, EnerFuture, EnerBlue scenario
Germany
Germany is a good example of a country aggressively ending nuclear. Seven units currently remain operational, totalling 11 GW of capacity. All will be decommissioned by 2022 under Germany's phase-out plan, with both renewables and coal set to replace them.
Nuclear power generation in Germany was already in slight decline before Fukushima, beginning in 2006. (Production fell from almost 170 TWh in 2006 to 99 TWh in 2012.) From 2006 to 2016, production sank 49%.
Changes in Germany's Power Production in the Wake of Fukushima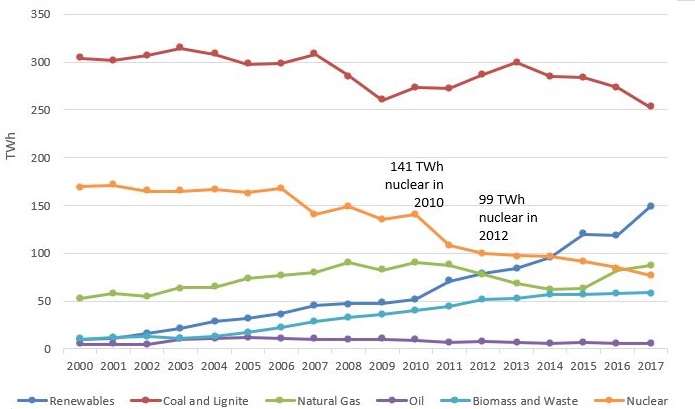 Source: Enerdata, Global Energy & CO2 Data, Physical Units Module
Controversial Technologies
Decommissionings have been widely pre-empted by poor public opinion about nuclear – concerns which are not unfounded. The technology used in first-generation nuclear power plants in the 1950s was left over from World War II, and was not designed for power production. The lingering stigma has not helped the reputation of modern nuclear power, which has its own issues – including safety and security, and disposal of radioactive waste.
While significant security improvements have been implemented following the Fukushima disaster, the most talked-about technology advancement is the EPR. 
As main conclusions, this publication highlights that:
Despite accounting for 5% of installed capacity, nuclear reactors generate 10% of the world's electricity.
The historical leaders in terms of nuclear power generation – France and the US – are among those now reducing their dependence on it.
Globally, nuclear power-gen only decreased 1% after Fukushima, and it has since returned to nearly the same level as before the disaster. In Japan and Germany, two countries where significant numbers of units have been put offline, coal has been part of the solution to substitute them.
New leaders in nuclear development are countries seeking to decarbonise their coal-heavy power mixes – including Finland, Poland, Czech Republic, China and India.