Floating LNG – Unfulfilled Promise
Today, just one Floating LNG ("FLNG") unit is "on site", and has yet to announce commercial operation. A handful more have made it through FID, but many have not moved beyond the concept stage.
In the case of Shell, projects have been stayed by political issues and changing economics. Petronas has niche developments, accessing domestic gas fields with FLNG, and has rescheduled deployment of a second vessel.
Golar LNG has one LNG carrier undergoing conversion to an FLNG which should be deployed in 2017, but two other conversions have been delayed, and only one appears to be earmarked for a specific project. Exmar took delivery of an FLNG barge in 2016, but is seeking employment after the original contract was cancelled.
ENI and its operating partners should be poised to announce formal FID on Coral South FLNG in Mozambique. Excelerate Energy, Hoegh FLNG, and Flex LNG have all currently exited FLNG, with the former two remaining focussed on Floating LNG Regasification projects ("FRSU").
Large-Scale FLNG: one down, one to go
FLNG for large field development is likely to remain the preserve of sponsors with the ability to attract and deploy significant amounts of risk capital. More projects have fallen by the way than have been sanctioned.
A "base load" FLNG project is illustrated by "Prelude FLNG" which will have a production capacity of 3.6 Mt of LNG (6.0 Mt including LPG and condensates). It has been described as a "revolutionary technology that will allow Shell to access offshore gas fields that would otherwise be too costly or difficult to develop…". Shell has not officially released a cost for Prelude FLNG, but in 2011 it was estimated at US$10.8-12.6 bn, and above 2,400 US$/t. In 2009, the company said "Shell's philosophy of "design one, build many" makes FLNG suitable for a wide range of feed gas compositions and metocean conditions."
An FLNG with capacity above 3.3 Mt is planned for the Coral South Field in Mozambique. ENI approved an investment plan in November, 2016, at about 1,300 US$/t (FID requiring sanction from the other project partners: Galp Energia, Kogas and Empresa Nacional de Hidrocarbonetos; and financial close). BP has signed an LNG SPA to offtake all project volumes (subject to the FID being taken).
Several projects have seen FLNG shelved. Inpex and Shell favoured FLNG for the Masela (Abadi) project, but the Indonesian government in March, 2016 requested an onshore development plan.
In March, 2016, Woodside announced the Browse Joint Venture participants had decided not to progress with FLNG despite completing FEED on the development concept chosen in May, 2015. As a consequence, Samsung Heavy Industries announced the cancellation of a three vessel FLNG hull order in April, 2016.
ENGIE and Santos confirmed in June, 2014 that FLNG was a credible option for the Bonaparte LNG project in Australia, but that they would review alternative development concepts, including a pipeline connection to Darwin, to meet commercial requirements. An FLNG capacity in the region of 2.4 Mt had been envisaged.
In 2012, Noble Energy indicated an FLNG evaluation for Tamar and Leviathan in Israel, but ultimately pipelines have been favoured. Petrobras chose pipelines over FLNG in Brazil's Santos Basin, with Galp Energia, noting in their 2011 Annual Report "The final investment decision, initially scheduled for 2011, was postponed."
Small (Mini) and Mid-Scale FLNG
With over 1,000 stranded gas fields of 15-55 bcm the resource potential for FLNG development is significant. Project cancellations suggest that simpler technology has not overcome gas quality and scale economies.
Petronas PFLNG Satu which has a production capacity of 1.2 Mt announced on 5 December, 2016, "… has achieved an industry breakthrough with the successful production of its first drop of LNG from the Kanowit gas field, offshore..." But, Petronas has delayed a second FLNG unit to be deployed at the Rotan gas field following an investment decision in January, 2014, with operation expected to commence in 2020 (two years later than originally scheduled).
Exmar has a 0.5 Mt barge-based FLNG delivered in late 2016 – originally for deployment in Colombia with Pacific Exploration and Production ("PEP"). In March, 2016, Exmar announced the agreement's termination, saying "…the domestic … and international LNG market have changed substantially making the liquefaction of LNG in Colombia no longer economic for PEP… Several employment opportunities … are currently under active discussions." Exmar has an option for a second barge-based FLNG with delivery in 2018.
Golar LNG has plans to convert three LNG carriers into FLNG units, having already secured employment for one. The "Hilli", is currently undergoing conversion at Keppel in Singapore, and is scheduled for delivery in 2017 for deployment in Cameroon. Gazprom Marketing & Trading has an offtake agreement for 1.2 Mt. Conversion of the other two vessels is dependent on notice to proceed.
In July, 2016, Golar LNG and Schlumberger formed OneLNG. In November, 2016, Ophir established a joint operating company with OneLNG to develop the 2.2 2.5 Mt "Fortuna" project in Equatorial Guinea. In January, 2017, Ophir stated "The Fortuna FLNG project remains firmly on schedule for a Final Investment Decision in 1H 2017. Ophir and its partner, OneLNG, are making good progress against all key milestones."
In a 2014 presentation, Hoegh FLNG Ltd outlined their ambitions for the sector, but Hoegh LNG's 3Q 2016 interim results stated "The FLNG segment has been responsible for developing and marketing the FLNG concept developed by the Group … following a decision on 16 February, 2016 to cease all FLNG activities..."
Flex LNG was an early proponent of FLNG. Ultimately, no FLNG projects have been developed by the company which is now majority owned by Geveran Trading Co. Ltd.
In Australia, referring to the Crux gas field, SGH in 2015 said "…excited about the potential benefits of [FLNG]" and then in November, 2016 said "…a longer term investment which provides multiple backfill development options." PTTEP drilled two appraisal wells at the Cash Maple gas field in 2011-12, saying they would consider both conventional LNG and FLNG options, but to date no concept selection has been announced.
In North America, Delfin LNG completed the project's draft Environmental Impact Statement in July, 2016, but has released further no news. In September, 2015 the Federal Energy Regulatory Commission announced "Excelerate Liquefaction and Lavaca Bay Pipeline filed to withdrawal their requests to construct and operate an LNG export terminal…". The Douglas Channel LNG Project (DCLNG) sought to deploy FLNG and take an FID in 2015, but announced it would "…halt further development…due to unfavourable market conditions."
What Challenges Does FLNG Face?
The fact many projects have not progressed is only partly reflective of the current LNG supply situation and unfavourable economics. Developers also often face challenges in aligning stakeholders (some of whom have competing "less risky" projects), finding bankable off-takers and financing support in a difficult market.
Despite simpler technology dry gas FLNG development may be uneconomic without liquid credits. Advanced processing of rich or difficult gas gives severe challenges with limited deck space. Personnel requirements, offshore logistics and maintenance costs can be high; non-routine repairs take long and modification is often extremely difficult. The effective annual capacity may be far below nameplate.
New technology, lower cost, and comparatively easier logistics onshore (especially in the US) also deeply challenge FLNG. The trend towards complete subsea developments and automation of all components is progressing rapidly. Smaller field developments are often prioritised according to tie-in economics.
In today's environment, the market is amply supplied with LNG from a wave of new projects that came online in 2016, and more are being added in 2017. Ultimately FLNG may prove a valid development concept, but the future appears as challenging as ever and now needs success of the early projects.
---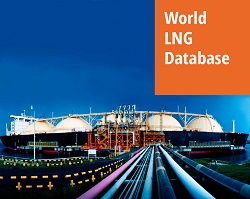 World LNG Database offers a complete set of data on LNG markets. The service provides detailed information on existing and planned liquefaction and regasification plants. It also includes LNG shipping around the world, LNG contracts, time series on regasification and liquefaction capacities, LNG flows and LNG prices for all players in the market.