US wind capacity exceeds 100 GW mark
According to the American Wind Energy Association (AWEA), the installed wind power capacity in the United States has reached 100 GW in the third quarter of 2019 (from over 94 GW at the end of 2018), enough to supply power to 32 million US households. Wind installations accelerated in the third quarter of 2019, with 8 new large power projects totalling 1.9 GW commissioned.
The AWEA expects wind power to continue to gain momentum. In the third quarter of 2019, the near-term wind project pipeline grew to 46.5 GW, which is nearly half the current installed capacity. According to the association, 22.6 GW of wind capacity is under construction and an additional 23.8 GW is in advanced development, including 5.8 GW of offshore wind. In addition, project developers announced 10 GW of new projects in the third quarter of 2019. Where offshore wind power development is concerned, the State of New York selected 1,696 MW from two projects to help meet its goal of 9,000 MW of offshore wind by 2035, while the State of Virginia approved plans to develop 2,500 MW of offshore wind by 2026.
---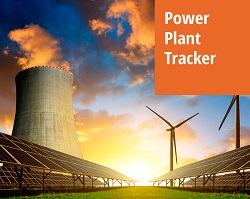 Enerdata has developed a market research service to screen, monitor and analyse the development of power generation assets.
Power Plant Tracker offers an interactive database and a powerful search engine covering power plants worldwide – including both installed and planned capacities for renewables and fossil fuels.