The US refining capacity declined by 1.1 mb/d between 2020 and 2022
The US refining capacity declined from 19 mb/d in early 2020 to 17.9 mb/d in early 2022, according to the US Energy Information Administration (EIA). This fall in refining capacity (-6% between 2020 and 2022) is caused by the closure of several refineries, including the 255,600 bbl/d Alliance refinery in Louisiana. Lyondell plans to permanently close its 263,776 bbl/d refinery in Houston at the end of 2023. There are 130 refineries operating in the United States as of early 2022, compared to 135 in 2020. The largest player in the refining sector includes Marathon Petroleum (2.9 mb/d, 15% of total capacity), Valero Energy (2.2 mb/d, 12%), ExxonMobil (1.8 mb/d, 10%), Phillips 66 (1.4 mb/d, 8%) and Chevron (1 mb/d, 6%).
---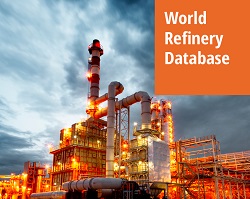 Use this powerful business intelligence tool to assess current and future production capacities of oil products by country and by zone. Gain insight into companies' asset portfolios and future trends for refined oil production capacities, giving you the ultimate edge for strategy and decision-making.