South Africa may forces Eskom to halt two units at 3.5 GW Kendal coal-fired plant
The South African Ministry of Environment, Forestry and Fisheries has ordered Eskom to, within a month, halt operations at either Unit 1 or Unit 5 (686 MW each) at the Kendal coal-fired power plant, after they failed with their air emission licences. Eskom must carry out required maintenance of one those units and submit an action plan to ensure compliance for Units 2, 3, 4 and 6. The Department of Environment, Forestry and Fisheries (DEFF) will decide at later stage if operations at Unit 1 or Unit 5 can continue.
Eskom is planning to delay the closure of the Groovtlei (1.1 GW), Camden (1.5 GW) and Hendrina (1.6 GW) coal-fired power plants to 2030. The three plants, which have a combined capacity of 4.2 GW and accounts for almost 10% of Eskom's total capacity, were scheduled to close between 2020 and 2026. They started operations in the 1960s and 1970s.
As of May 2020, coal accounted for more than 70% of South Africa's total installed capacity (52 GW). In its NDC, South Africa is committed to unconditionally keep its GHG emissions between 398 MtCO2eq and 614 Mt CO2eq by 2025 and 2030. These efforts will lead GHG emissions to peak between 2020 and 2025, plateau for a ten-year period from 2025 to 2035 and decline from 2036 onwards.
According to the Integrated Resource Plan (IRP) until 2030, published in October 2019, there is a short-term supply gap of approximately 2 GW. This figure has recently been updated by South African power utility Eskom to about 3 GW. In December 2019, the Department of Mineral Resources and Energy (DMRE) launched a Risk Mitigation Power Purchase Programme, with the objective to procure between 2-3 GW of power generation capacity that can be connected to the grid in the shortest time at the least possible cost.
---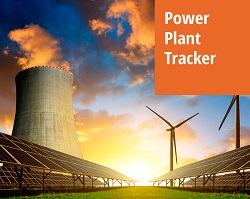 Enerdata has developed a market research service to screen, monitor and analyse the development of power generation assets.
Power Plant Tracker offers an interactive database and a powerful search engine covering power plants worldwide – including both installed and planned capacities for renewables and fossil fuels.