Slovenia targets decision on second nuclear reactor by 2027
The Ministry of Infrastructure of Slovenia plans to make a decision on the construction of a second nuclear reactor at the Krško nuclear power plant by 2027 at the latest. The existing 688 MW Krško reactor, which is equally owned by state-owned companies from Slovenia (Gen Energija) and Croatia (HEP), covers about a third of Slovenian electricity needs (35% in 2018). Commissioned in 1981, it was originally scheduled to close in 2023 but Slovenia and Croatia have agreed to extend its lifespan by 20 years to 2043. Gen Energija has been considering a second nuclear reactor of 1,100-1,600 MW on the Krško site for a long time. However, the extension of the operation license of Krško-1 to 2043, as well as cost escalation (from €2-5bn to €6bn-€8bn due to additional post-Fukushima safety requirements), delayed the project. In August 2019, the Slovenian Prime Minister announced his support to the construction of a second reactor, to replace the existing one beyond 2043.
The Ministry of Infrastructure of Slovenia has also called for accelerating the development of a storage facility for low and intermediate level radioactive waste, urging to start the construction of such a site in Vrbina as soon as possible. The location of the Vrbina site was approved in 2014, construction was expected to start in 2019 for trial operations as of 2022, but Slovenia and Croatia failed to reach an agreement on the project in October 2019. The €160m repository would store up to 9 400 m³ of low and intermediate level waste, corresponding to Slovenia's part of the waste from Krško.
---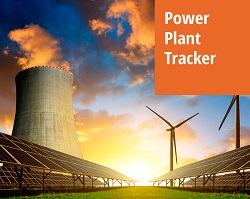 Enerdata has developed a market research service to screen, monitor and analyse the development of power generation assets.
Power Plant Tracker offers an interactive database and a powerful search engine covering power plants worldwide – including both installed and planned capacities for renewables and fossil fuels.