The share of renewables in Germany's power mix reached 43% in 2021
According to the German Federal Network Agency (Bundesnetzagentur or BNetzA), the network load rose by 3.7% to 504 TWh in 2021 and net power generation increased by 2.2% to 505 TWh. Conventional power generation increased by 11% to 290 TWh, while renewable power generation declined by 7.7% to 215 TWh, due to a much lower wind power generation (-13% for onshore wind to 90 TWh, and -11% for offshore wind to 27 TWh) that was partly offset by a higher solar PV production (+47% to 46 TWh). Consequently, the share of renewables in the power mix declined from 48% in 2020 to less than 43% in 2021, with 23% of wind, 9% of solar and 11% of biomass, hydropower and other renewables.
In 2021, Germany was a net electricity exporter with a total of 17 TWh, though net exports fell by 6% (exports increased by 10% to 57 TWh, while imports grew by 17% to 40 TWh). The average day-ahead wholesale electricity price was multiplied by 3 in 2021 to €96.85/MWh, up from €30.47/MWh in 2020.
---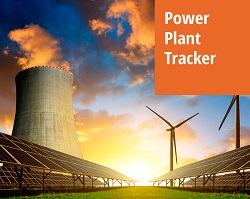 Enerdata has developed a market research service to screen, monitor and analyse the development of power generation assets.
Power Plant Tracker offers an interactive database and a powerful search engine covering power plants worldwide – including both installed and planned capacities for renewables and fossil fuels.