Saudi Aramco will acquire Shell's share in refining JV (Saudi Arabia)
Saudi Arabian state-run oil company Saudi Aramco has announced plans to acquire Shell's 50% stake in the Saudi refining joint venture SASREF for a total consideration of US$631m. Expected to be completed later in 2019, the transaction entails a 305,000 bbl/d refining facility located in Jubail Industrial City (Saudi Arabia), which was commissioned between 1985 and 1988. This announcement fits into Saudi Aramco's strategy to increase the capacity and complexity of its refineries and to develop its long-term downstream business operations. 
In particular, Saudi Aramco is expanding its position in the Asian refining sector and plans to boost the processing capacity of its global refining network to 10 mb/d by 2030. In China, Saudi Aramco signed an agreement to acquire a 9% stake in the 800,000 bbl/d Zhejiang Zhoushan greenfield refinery and petrochemical complex project, currently under construction in the city of Zhoushan, in Zhejiang. Saudi Aramco also agreed to form a joint venture (JV) with the Chinese company Norinco (China North Industries Corporation) and Panjin Sincen to jointly develop another 300,000 bbl/d refining and petrochemical complex in Panjin, in Liaoning (northern China) as of 2024; Saudi Aramco will own 35% of the newly formed Huajin Aramco Petrochemical company. In April 2019, Saudi Aramco also outlined plans to acquire a 17% stake in the South Korean refiner Hyundai Oilbank for US$1.25bn. Hyundai Oilbank operates a 650,000 bbl/d refining complex in the western coastal city of Daesan (South Korea). 
---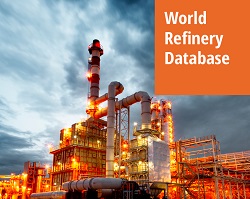 Use this powerful business intelligence tool to assess current and future production capacities of oil products by country and by zone. Gain insight into companies' asset portfolios and future trends for refined oil production capacities, giving you the ultimate edge for strategy and decision-making.