Saudi Aramco acquires 9% of the Zhejiang petrochemical complex (China)
Saudi Aramco and China's Zhejiang Free Trade Zone have signed a Memorandum of Understanding (MoU) on Saudi Aramco's purchase of a 9% stake in the Zhejiang integrated refinery and petrochemical complex (China) which is owned by Zhejiang Petroleum & Chemical (ZPC), a joint venture between Rongsheng Holding Group, Juhua Group, Tongkun Group, and Zhoushan Marine Comprehensive Development Investment.
ZPC is currently constructing the Zhejiang refinery phase 1 and 2, each with a capacity of 400,000 bbl/d. The incorporation of Saudi Aramco to the consortium will solidify the development of the third phase of the project that plans to add another 400,000 bbl/d of capacity. The agreement also includes a long-term crude oil supply agreement and rights to use Zhejiang's large crude oil storage facility to serve the Asian market demand.
---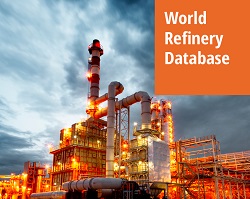 Use this powerful business intelligence tool to assess current and future production capacities of oil products by country and by zone. Gain insight into companies' asset portfolios and future trends for refined oil production capacities, giving you the ultimate edge for strategy and decision-making.