Russia's crude oil exports declined by 11% to 239 Mt in 2020
According to the Federal Customs Service, Russia's crude oil exports declined by 11% in 2020 to 239 Mt, while oil products exports dipped by 0.8% to 142 Mt (despite a 12% growth in gasoline exports and a 3.3% increase in diesel exports). Natural gas exports dropped by 9.7% to 199 bcm but LNG exports increased by 4.5% to 68 bcm. Finally, the country coal exports reached 199 Mt (-3%). The fall in global oil prices in 2020 contributed to a 41% fall in crude oil export revenues to US$72.4bn and a 32% decrease in oil product export revenues, while gas export revenues fell by 40% (-15% for LNG).
In 2020, Lukoil's hydrocarbon production was 2,064 kboe/d, which is 12% lower than in 2019. The company produced 77.2 Mt of oil (-10%), including 73.5 Mt in Russia (-10%) and 29 bcm of natural gas (-17%), including 17.6 bcm in Russia (-1.2%). Lukoil's refinery throughput declined by 15% to 58.6 Mt in 2020, including 40 Mt in Russia (-9.2%).
---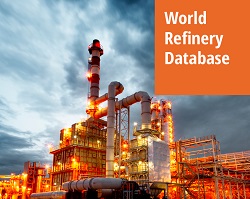 Use this powerful business intelligence tool to assess current and future production capacities of oil products by country and by zone. Gain insight into companies' asset portfolios and future trends for refined oil production capacities, giving you the ultimate edge for strategy and decision-making.