Russia's oil and gas budget revenues grew by 28% in 2022
According to preliminary data released by the Russian government, Russia's budget revenues from oil and gas increased by 28% or RUB 2,500bn (US$36.7bn) in 2022. Oil production increased by 2% to 535 Mt, with oil exports growing by 7%.
484 bcm of gas were delivered to the Russian market in 2022 and LNG exports rose by 8% to 46 bcm (Russia aims to reach a LNG production level of 60 Mt/year in coming years and 100 Mt/year later). Pipeline gas supplies declined due to European sanctions and interrupted supplies from the Nord Stream pipelines. Earlier in January 2023, Gazprom announced a 46% decrease in gas exports outside the Commonwealth of Independent States (CIS) from 185 bcm in 2021 to 101 bcm in 2022. The company is seeking to reroute its energy flows from to Asia, especially to China. Russia sold 16.5 bcm of natural to China in 2021; in 2022, it exported 15.5 bcm of gas to China through the Power of Siberia pipeline.
---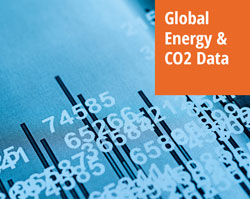 Then Global Energy Market Data & CO2 is your database! We provide world coverage of the oil, gas, coal, and power markets and a detailed overview of national supply & demand with annual data going back to 1970.
This energy database leverages more than 200 official data sources, which are processed by our analysts to provide fully harmonised data sets that are updated monthly.