Romania adopts law to develop 2 Units (1.5 GW) at the Cernavoda nuclear plant
Romania has adopted a law supporting the agreement between the Romanian government and the country's nuclear energy company Nuclearelectrica for the development of Units 3 and 4 of the Cernavoda nuclear power plant, which will both have a capacity of 720 MW.
The adoption of the law enables stage 2 of the project to begin. This stage includes steps relating to updating the project budget, structuring financing and getting European Commission approval as well as Nuclear Safety Authorisation for the construction phase and taking the final investment decision (FID) to move to stage 3, the construction phase. The second stage (preliminary works) the project is scheduled to take up to 30 months, with construction (third stage) estimated to take between 69 and 78 months. Unit 3 is scheduled to start commercial operation in 2030 and Unit 4 in 2031.
Cernavoda, located in Constanța County (south-eastern Romania) is the country's only nuclear power plant and consists of two 650 MW pressurised heavy-water reactors. Unit 1 went into commercial operation in 1996 and Unit 2 in 2007. Nuclearelectrica also plans to extend the operating life of Unit 1 to 60 years. In November 2022, the Export-Import Bank of the United States (Exim Bank) issued two letters of interest to finance, for over US$3bn, the completion of Units 3 and 4, which are already partially built, but whose construction has been suspended since 1992.
At the end of 2021, nuclear represented around 8% of Romania's installed capacity with 1.4 GW and 19% of the country's power generation with 11.3 TWh.
---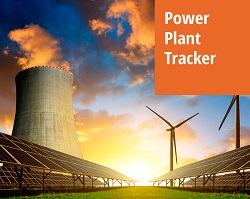 Enerdata has developed a market research service to screen, monitor and analyse the development of power generation assets.
Power Plant Tracker offers an interactive database and a powerful search engine covering power plants worldwide – including both installed and planned capacities for renewables and fossil fuels.