Global renewable capacity rose by 176 GW in 2019
According to the IRENA, the global renewable capacity increased by 7.4% in 2019, when 176 GW of new projects were commissioned, raising the global renewable capacity to 2,537 GW. More than half of the new renewable capacities were installed in Asia (95.5 GW, corresponding to a 9% growth), followed by Europe (+35 GW, +6.6%), North America (+22 GW, +6%), South America (+8.4 GW, +4%), Oceania (+6.2 GW, +18%), Eurasia (+3.1 GW, +3%), the Middle east (+2.5 GW, +13%), Africa (+2 GW, +4.3%) and Central America (+0.6 GW, +4.1%).
Most of the new capacities (nearly 90%) came from solar projects (+98 GW, i.e. a 20% increase in total capacities, including 30 GW in China) and from wind projects (+59 GW, +10%, including 26 GW added in China and 9 GW added in the United States). The remainder came from hydropower (+12 GW, i.e. +1%, with most of the expansion in China and Brazil), bioenergy (+6 GW, i.e. +5%) and geothermal energy (+700 MW).
At the end of 2019, nearly half of the global renewable power capacity consisted in hydropower (1,190 GW, i.e. 47% of the total) and another half in wind power (623 GW, 25%) and solar (586 GW, 23%). The remaining 5% consisted of 124 GW of bioenergy, 14 GW of geothermal and 500 MW of marine energy.
---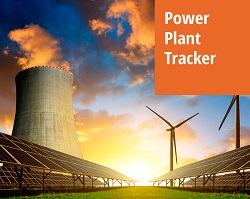 Enerdata has developed a market research service to screen, monitor and analyse the development of power generation assets.
Power Plant Tracker offers an interactive database and a powerful search engine covering power plants worldwide – including both installed and planned capacities for renewables and fossil fuels.